Transform Your Space into a Cosy Café
Ever felt the urge to recreate the warm, invigorating aroma of your favorite cafe shop right at home? We get it. There's something irresistibly cosy about the scent of freshly brewed coffee that just beckons relaxation and nostalgia. Enter the world of coffee-scented candles – a perfect solution to turn your space into a comforting haven. We've explored, reviewed, and ranked some of the best coffee candles in the market, considering everything from the authenticity of their scent to their burn quality and price. Dive in to find which one could be your new favorite and transform your home into a caffeinated paradise.
Yankee Candle Café Al Fresco: A Smell to Remember
Have you ever wondered what the best-smelling candle is? Many people love different fragrances, but the Yankee Candle Café Al Fresco has gained a lot of fans. This candle is special because it's made from a really good type of wax called paraffin-grade wax. This type of wax is known to burn evenly, so you get a steady, beautiful flame every time you light it up.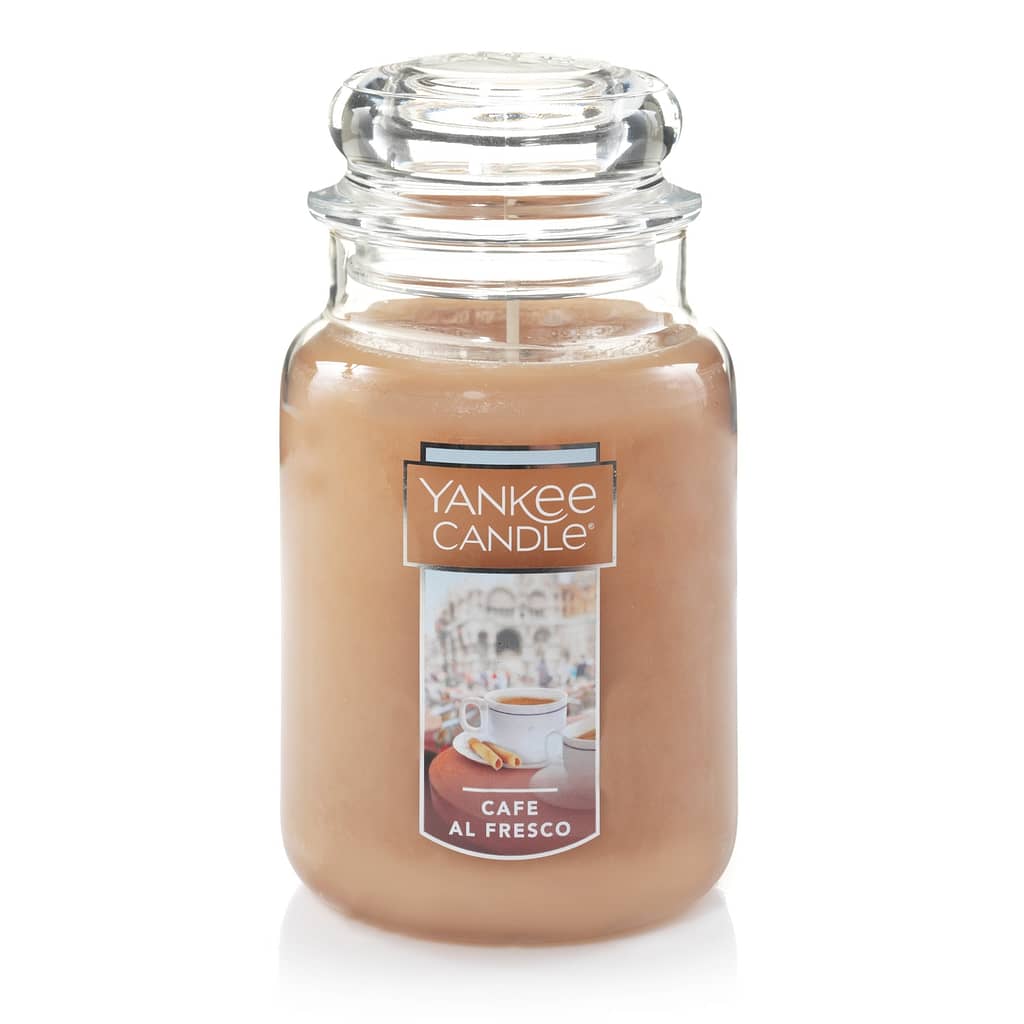 Now, let's talk about its scent. Imagine sitting in a lively outdoor café. You can smell the aroma of fresh coffee brewing. Add to that the sweet hints of cinnamon and a touch of creamy caramel. That's what this candle smells like! It's like a lovely morning at your favorite coffee spot, captured in a jar.
Another good thing about this candle? It has a wick made from natural fibres. This helps it burn better. And the best part is, it can keep your room smelling nice for a very long time, up to 150 hours according to the people who made it. So, if you love the idea of bringing the cozy café vibe into your home, this might be the perfect candle for you.
Bath & Body Works Paris Café Candle
For those who love the tantalizing aroma of a bustling Café, Bath & Body Works brings you the Paris Café candle. Just like its name suggests, this candle transports you straight to a quaint Parisian café where freshly roasted coffee beans wafts through the air, paired with the gentle sweetness of pastries.
The standout feature of this candle is its 3-wick design. This ensures it burns evenly, meaning you don't waste any lovely scent. When lit, it fills any room with an inviting fragrance, setting a cozy ambience.
But there are a few things to note. While it boasts a rich coffee scent, some users mentioned it leans towards a chocolatey coffee aroma. This might not be a perfect match if you're looking for a pure coffee scent. Also, with its stylish design and quality, it comes at a higher price point. And, it's a limited edition, so if you fall in love with it, you might have to stock up before it's gone!
Price-wise, it's on the pricier side, indicating the quality of the product. When judging the candle on the authenticity of its coffee scent, it scores a decent 3.5 out of 5. It's a delightful blend for those who enjoy both coffee and a hint of sweet chocolate in the air.
Hazel Candle Co's Morning Brew Candle
For coffee lovers who love to start their day with the rich aroma of a freshly brewed cup, Hazel Candle Co's Morning Brew is like a dream come true. When you light it, it's as if you've just made a fresh pot of coffee in your kitchen. But there's a special twist: along with that authentic coffee scent, you'll also catch gentle whiffs of hazelnut and caramel. It's a delightful blend that warms the heart and soothes the soul.
What makes this candle even more special is its handmade touch. Each Morning Brew candle is hand-poured, showcasing the dedication and artistry that goes into making it. Plus, it's crafted from soy wax, which is not only eco-friendly but also known for giving a clean burn.
However, quality often comes with a higher price. This candle is a bit on the expensive side. And because of its unique and artisan nature, it's not always easily available. So if you spot one, you might want to grab it while you can!
When we talk about how close it smells to actual coffee, it gets a good score of 3.5 out of 5. For anyone who adores coffee and values handcrafted items, the Morning Brew by Hazel Candle Co is a treat for the senses.
WoodWick Trilogy Café Sweets
Imagine a candle that not only brings the inviting aroma of coffee to your home but also visually resembles a creamy latte in a clear mug. That's what you get with the WoodWick Trilogy Cafe Sweets candle. But the fun doesn't stop at its looks.
One of the unique features of this candle is its layered design. It's not just for show. Each color layer holds its own special fragrance. So, as you light it up and let it burn, you get to experience different coffee-related scents. It's like having multiple candles in one!
Now, every product has its strengths and areas for improvement. Some customers feel that its aroma is a tad too strong. If you're someone who likes subtle scents, this might be something to consider. However, on the bright side, this candle is known to last. You can expect about 8 hours of continuous burn time, which is pretty impressive. When talking about its authenticity in capturing the coffee essence, it does a commendable job, scoring a 4 out of 5. If you're a coffee enthusiast looking to infuse your space with a cafe-like ambiance, this candle might just be the perfect addition.
Goose Creek Coffee House
Ever wished you could have the comforting smell of a coffee shop right in your home? Well, Goose Creek's Coffee House candle might just be what you've been looking for. It smells just like that first whiff you get when you walk into a cafe — a mix of freshly brewed coffee with just a touch of chocolate and spice. It's like having your favorite coffee spot, but in the comfort of your own space. What's great about this candle? First, the scent is so inviting. It's like a warm hug on a cold day. Plus, it has a long burn time, so you can enjoy it for hours and hours.
But of course, everyone has different tastes. Some people have mentioned that the scent might be a little too soft or subtle for them. If you like really strong smells, this is something to think about.
When it comes to price, it's pretty reasonable, and if you're wondering how true it is to the actual smell of coffee, it scores a high 4.5 out of 5. So, if you love coffee and want to bring that cozy feeling home, this could be the candle for you.
Swan Creek Coffee Mug Candle
Imagine waking up to the aroma of fresh coffee every morning, even before you brew your first pot. Swan Creek's Coffee Mug Candle offers just that experience. As soon as you light it up, it fills your kitchen with a warmth and coziness reminiscent of the best morning brews.
This isn't just any ordinary candle. Made in the USA, it boasts of 100% American Soybean Wax. This means it not only burns cleaner than traditional candles, but it's also eco-friendly. Moreover, the candle is intensely fragrant, mimicking the rich and robust scent of Roasted Espresso.
But what truly sets it apart is its unique packaging. The candle is housed in a beautifully marbled stoneware coffee cup. This design not only adds a touch of charm to your kitchen decor but also makes it a perfect housewarming gift.
Sounds great, right? Well, it does have its fragrant highs and a few lows. Let's talk about the highs first. The scent is incredible, as many users rave about its authentic coffee aroma.
However, there has been a hiccup. Some users reported that while they absolutely loved the candle's smell, they were disappointed to find the base of the cup shattered upon arrival. This is definitely a bummer, especially if you're gifting it.
All in all, if you're looking to bring the coffee shop vibe to your home and enjoy a clean, fragrant burn, the Swan Creek Coffee Mug Candle ticks a lot of boxes. Just make sure to check its condition upon arrival!
Keystone Candle Coffee Cake
Who doesn't love the comforting aroma of a fresh pot of coffee, especially when it's paired with the enticing scent of freshly baked cake? Keystone Candle's Coffee Cake candle beautifully marries these two fragrances, ensuring your home smells warm, inviting, and oh-so-cozy.
And for those who have a love for all things grand, Keystone has a surprise! They offer some candles that are not just big; they're massive. Imagine a candle that weighs 28 pounds and can hold 256 ounces of wax! If you're someone who believes in the saying, "Go big or go home", then these giant candles might just be your next purchase.
However, a word of caution: while many love the blend of coffee and cake, some find the scent a tad too sweet. It's a bit like how some like theirs's black, while others prefer it with a generous splash of syrup.
Priced reasonably, this candle promises a long burn time, ensuring that your space remains fragrant for extended periods. But when it comes to capturing the authentic aroma of coffee, it scores a 3 out of 5, leaning more towards the baked goods side of the spectrum.
In summary, if you're someone who enjoys the sweet things in life and loves the aroma of coffee and cake in tandem, Keystone's Coffee Cake candle might just be your cup of tea… or rather, a mug of coffee!
La Montaña – Alfredo's Café Candle
Do you like the smell of coffee? Imagine sitting in a small café in Spain. The air smells like strong coffee with a sweet hint of cinnamon. Now, think of a fresh orange and its zesty smell. The Alfredo's Café candle from La Montaña mixes all these scents. It's like a trip to Spain without leaving your home!
This candle looks good, too, with a design that can make any room look fancy. It's perfect for people who love different coffee smells, not just the plain ones.
But there are a couple of things to keep in mind. It's a bit expensive, so you might have to think before buying it. Also, it might not always be in stock because many people want it.
In terms of how much it smells like real coffee, it's a bit mixed. It scores 3 out of 5. But the blend of other smells makes it special.
Pretty Honest Candles – Fresh Coffee
Do you know the lovely smell when you walk into a coffee shop? That strong coffee aroma that makes you feel cozy and awake? Pretty Honest Candles has made a candle that smells just like that. It's called the Fresh Coffee candle.
What's even better is how they make it. Each candle is poured by hand, so a lot of care goes into each one.
One of the remarkable features of this candle is its approximate burn time. It can last up to 50 hours! That's a lot of cozy coffee-scented evenings. What makes it even better is the quality of the burn. Made from all-natural soy wax, this candle ensures a longer and cleaner burn compared to traditional candles. This means fewer sooty residues and a consistent fragrance from start to finish.
Safety and health are priorities for Pretty Honest Candles. The Fresh Coffee candle comes with a natural, lead-free cotton wick, ensuring you aren't inhaling harmful substances. Furthermore, this candle won't contain harmful chemicals or additives, making it a great choice for homes with children or pets.
In conclusion, if you're looking for a coffee-scented candle that's both aromatic and conscious of your health and the environment, Pretty Honest Candles' Fresh Coffee is a top pick. Its genuine aroma and eco-friendly and safety-first features make it a standout in the world of scented candles.
Homesick – Seattle Candle
If you're someone who holds fond memories of Seattle or simply loves its characteristic scents, the Homesick Seattle Candle might be of interest to you. Imagine the scents of pine needles mixing with lemon and cedar, having undertones of unique rhubarb and musk.
This candle, weighing 13.75 oz crafted with a natural soy wax blend, it boasts an impressive burn time of 60-80 hours. Plus, it's recommended as a perfect companion for moments of relaxation and meditation.
However, it's essential to care for this candle properly. A ¼ inch trim for the organic cotton wick is suggested for the best burn, and it's advised to let it burn for 2-3 hours at a stretch. Always remember safety first and extinguish the flame completely after use.
But it's not all praise. There's feedback about its messy burning behaviour, which leaves an unsightly black residue on the glass container and the wax. Some users have also pointed out issues with its wick, with the candle refusing to stay lit after burning a third of its content. The scent seems to be a hit, even with those who pointed out the cons.
Given its price point, potential buyers might want to weigh the unique and nostalgic scent profile against its reported burn issues.
The Allure of Coffee Shop Ambiance
There's an unparalleled charm to coffee shops – a blend of sights, sounds, and most notably, scents that transport us to our favorite memories or simply offer an escape from the daily grind. In our exploration of coffee-scented candles, we've journeyed through a rich tapestry of aromas, from the invigorating to the nostalgic, aiming to bring that café allure into the comfort of our homes.
Diverse Scents for Every Coffee Lover
Each candle, from Yankee Candle's Café Al Fresco to Pretty Honest Candles' Fresh Coffee, offers a unique perspective on this universally adored beverage. Some encapsulate the pure aroma of freshly brewed coffee, while others blend in the sweet undertones of pastries, chocolates, and more.
More than Just Aroma: Creating a Mood
But more than just scents, these candles speak of ambiance, mood, and memories. Whether you're yearning for the buzz of a Parisian café, the warmth of a Seattle coffee shop, or the artisan vibe of a Spanish café, there's a candle to transport you there.
Final Thoughts: A Personal Haven
In essence, "Free your Café Lust with Coffee aroma's" isn't just about introducing a fragrance into a room; it's about recreating an experience, a feeling. It's a testament to how the simple act of lighting a candle can transform a mundane space into a personal haven, where every inhale is an invitation to relax, reminisce, and rejuvenate.
Take your journey to a different Aroma Visit our Scent Directory